Cabinet Division Exam Date and Admit Download 2023 published On Our website Shahure.com. Cabinet Division (CABINET) Exam Date, Seat Plan, and Admit Download 2023 Process are available below. Cabinet Division Teletalk Online Admit Download And Set Plan Official Notice link: cabinet.teletalk.com.bd/admitcard/index.php. Cabinet Division (CABINET) is a Government Organization in Bangladesh. Cabinet Division (CABINET) has published a huge jobs Exam Notice Authority. All information regarding the appointment of Cabinet Division (CABINET) Job Exam And Admit are given on our website.
Cabinet Division Exam Date and Admit Download 2023
Organization Name: Cabinet Division (CABINET)
Post Name and Vacancy:
1. Steno Typist cum Computer Operator – 08
2. Office Assistant – 31
3. Modelar- 01
4. Store Keeper – 01
5. Office Assistant Cum Computer Typist – 02
6. Gallery Attendant – 06
7. Data Entry/Control Operator – 01
8. Electrician – 01
9. Receptionist – 01
10. Publisher Assistant – 01
11. Security Guard – 03
12. Office Assistant – 04
13. Cleaner – 02
Total Vacancy: 62
Exam Date: 10 March 2023
Exam Time: 10.30 AM 11.30 AM and 2.30 PM 3.30 PM
N.B: SMS for admit download has been sent to the candidate's mobile number. Detailed information is available on admit card.
How to Download Cabinet Division Admit Card
Click the below Admit Card Download Link

cabinet.teletalk.com.bd

Now put your Track Number and Password
The Click to Login Button and
Now Last Download Your Admit (PDF File)
Admit Card Download Link http: Click Here to Download Admit
Cabinet Division Exam Instructions to the candidates
Candidates must bring the 'Admit Card' and show it to the invigilator(s) on duty.
The photograph contained in this Admit Card will be matched with the photo submitted with the original application.
Candidates should bring only black ink ballpoint pens. Use of Pencil is PROHIBITED.
Mobile Phone, Calculators, or any Electronic Device (including digital watch/device) is NOT ALLOWED.
Authority reserves all rights to take any kind of punitive measure against any candidate who adopts unfair means or misbehaves in the examination hall.
No TA/DA will be admissible for attending the examination.
Candidates must enter into examination hall before 30 minutes to starting the examination with necessary health safety precautions with wearing a face mask.
Teletalk SMS Demo:
PHQ Info for TRC recruitment: Dear MD. *******, you are selected to appear physical endurance test. Print 2 copies admit card at cabinet.teletalk.com.bd by using USER ID: RC*****QYK and PASSWORD: Z28****W.
Official Exam Notice: Click here to see the official exam notice
Cabinet Division Exam Date and Admit Download notice 2023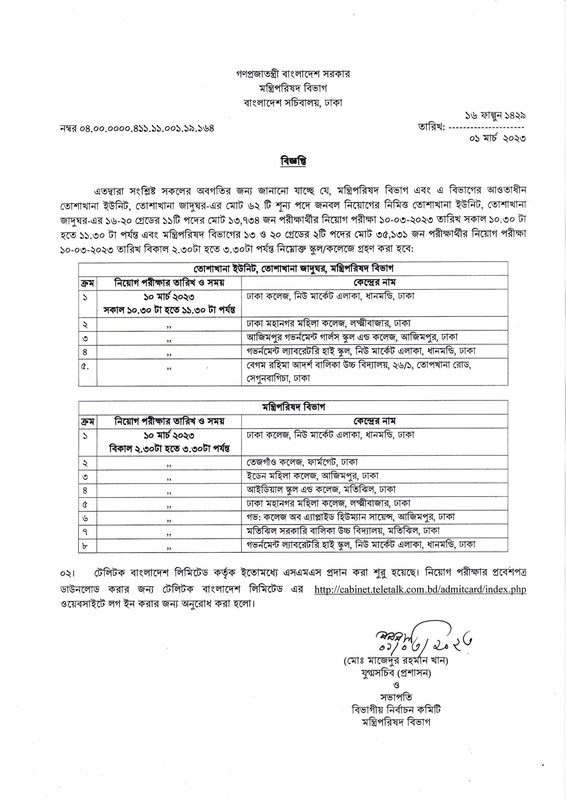 Circular information: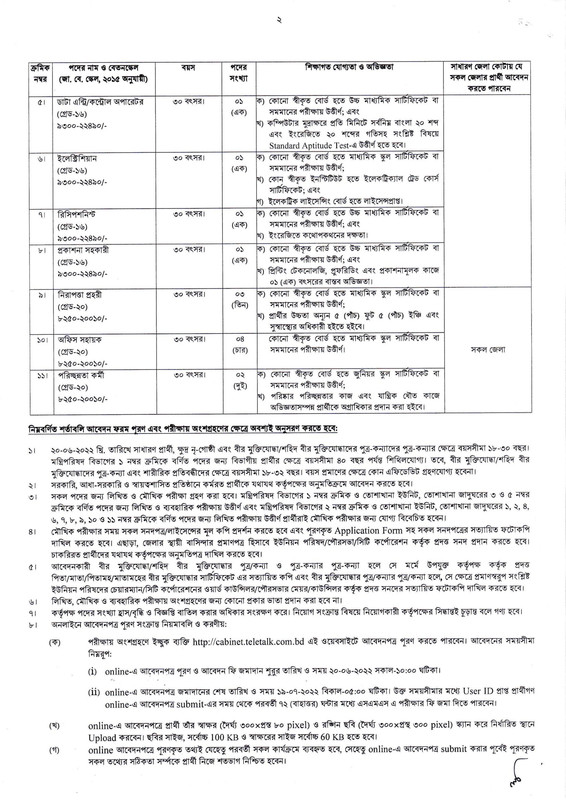 Contact
Email: [email protected]
Contact: 01320652739
Mirpur, Dhaka, Bangladesh